The concert halls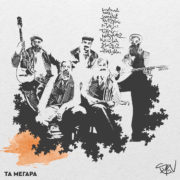 Lyrics: Leonidas
Music: Giorgis Nikas
Presantation: Chris, Leonidas
Beat Programming: Chris
Cuts: DJ Booker
Cretan Lute: Yiannis
Baglama: Giorgis Nikas
Bass: Στέλιος Μπότσαρης
Pontian Lyre: Yiannis Michaelides
Artwork: Ioannis Oikonomakis
Year: 2020
Recording, mixing and mastering by Los Angelos (DJ Stigma) at GroundZero Sound & Designs
Cuts recorded at Breathe Studio by DJ Booker
Can you imagine one day our songs playing in the Megara
I mean the concert halls, not the city after Elefsina
And all the lyrics and the refrains I doubted about
Can you imagine all the high class Athens rapping with them?
Imagine them analyzing our rhymes
"What does the poet mean by this?"
Imagine a lot later our value to be recognized
As a chronograph, as they say, of the era?
Imagine the Dj on the decks to be called the "turntables expert"
And all our errors coming from "poetic license"
Our beats to be "samples of high art"
Our flows to be taught at the conservatoires
But, if you happen to hear that our music plays at the Megara
You should know, it probably means I am dead
And if anyone turns our songs into touristic hits
I want you to take off and rip our t-shirt
So if you happen to hear that our music plays in the Megara (concert halls)
You should know, it probably means I am dead
And if anyone turns our songs into touristic hits
I want you to take off and rip our t-shirt
Can you imagine one day our songs
Playing on Sunday night as Monday comes through
Bibbers and womanizers rapping
And musicians playing to earn their daily pay?
And in and between people asking for songs
Imagine as they want to hear our music
While they flirt with all the beautiful ladies on the floor
That they raise their glass and drink to us.
Do you imagine them making a movie about us
Turning Giorgi's workshop into a museum
And all the high society, well-dressed
Cursing while rapping with our lyrics
Let's let it go. It made me sick. I'd rather not.
Let the memories remain in songs outside any context
I just want my friends from those first live performances at school
To keep taking their hats off to me.
So if you happen to hear that our music plays in the Megara
You should know, it probably means I am dead
And if anyone turns our songs into touristic hits
I want you to take off and rip our t-shirt